Top Message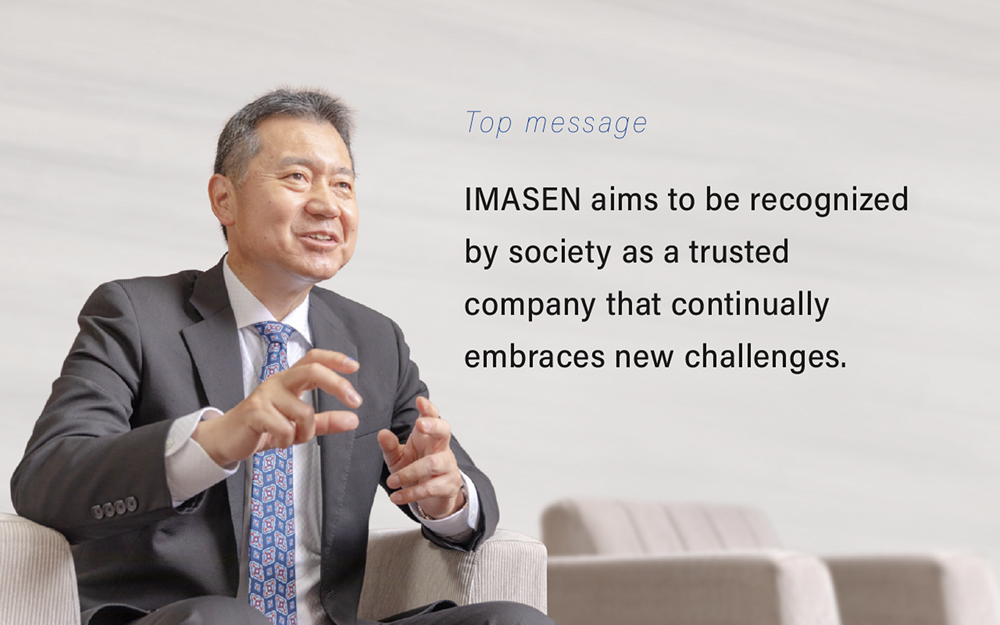 A global supplier enhancing the safety of automobiles
IMASEN Group was founded in February 1939, and as an independent manufacturer has continued to adapt to the motorization of Japan and the world, Starting with the electronic horn for automobiles, which is our founding product, actively promote the development of various products such as automotive lamps, relays, wind regulators, seat adjusters. In 2019, IMASEN celebrated its 80th anniversary.
Today, along with its mainstay seat adjusters, IMASEN is involved in the production of electronic control units (ECUs) and other electronic components, continuing its commitment to providing "products that enhance the safety of automobiles." Making products such as these means adhering to strict specifications and regulations, and our strength as a company lies in the expertise that we have accumulated by pursuing development to meet these requirements, ensuring quality, and making refinements. I believe that this is the significance of our company.
Initiatives for productivity and quality during the COVID-19 crisis
The decline in orders resulting from the COVID-19 pandemic and semiconductor shortage has given us a valuable opportunity to concentrate on improving productivity and quality. We have installed new equipment on the production lines for our mainstay seat components, and added automated lines that utilize robots. These upgrades have been made at production facilities in Japan and North America, as well as plants in China and Thailand.
The production line of seat adjuster, which is our current main product, will be consolidated into the Gifu Plant, which started operation in 2007, and will be a highly efficient factory using an automated line using robots, indicating our role as a far-sighted mother factory.Utilizing the know-how accumulated at the Gifu Plant, we are actively introducing automation lines at production facilities in North America, China, and Thailand.
For electronic components, which aim to grow as the second pillar after seat adjuster, we will build a system that can flexibly respond to fluctuations in production volume by replacing each product with a newly established multi-product mixing line to improve productivity.
Alongside seat components, the second pillar of our business is electronic units. Going forward, we plan to successively replace dedicated assembly lines with multiproduct lines, building a structure able to adapt flexibly to changes in production volumes and enhancing productivity.
When sales declined during the financial crisis in the late 2000s, we took the opportunity to make far-reaching improvements in productivity and quality. The recovery in orders the following year generated our highest earnings ever, reaffirming our belief that these latest initiatives will also be highly significant.
Unpredictable times and business structure reforms
The automotive industry is in the midst of a once-in-a-century transition, and the COVID-19 crisis has made ascertaining the state of the business environment extremely difficult. Under such conditions, IMASEN Group is taking steps to bolster its earnings structure, including restructuring factories in Japan and improving finances at overseas subsidiaries. At the same time, because reforms to the business structure are necessary to ensure sustainable growth, we also want to cultivate a third business pillar alongside seat components and electronic units. IMASEN Group is involved in such fields as image processing, wire harnesses for aircraft, and mobility aid devices, so we are seeking to establish new businesses that will help solve issues facing society. Together with TS Tech Co., Ltd., the company with which we concluded a capital and business alliance in November 2020, we are pursuing a variety of joint projects such as proposals to automakers and development of next-generation products. Combining TS Tech's expertise in seat frames with IMASEN's technologies for electronic control of mechanical components will allow us to concentrate the strengths of each company to enhance technical capabilities and productivity.
ESG management and the "Trust & Challenge" Management Plan
As environmental concerns have become increasingly visible, for instance the Japanese government's declaration to achieve carbon neutrality by 2050, IMASEN Group has implemented measures to reduce its environmental load, such as cutting greenhouse gas emissions in its manufacturing processes, introducing renewable energy, and reducing waste. Further, to strengthen its management foundation, IMASEN is actively pursuing ESG management including personnel development, working style reforms, and establishing a governance structure.
In April 2021, IMASEN Group launched the "Trust & Challenge" Long-term Management Plan 2029. The phrase "Trust & Challenge" reflects our firm commitment to building trusting relationships with stakeholders, and using that solid foundation to pursue challenges aimed at meeting ambitious targets. We will make a concerted effort as a company to achieve strong growth, and fulfill our management philosophy of being "recognized by society as a trusted company that continually embraces new challenges.
June 2021
Takamitsu Sakurai
President and Representative Director