Social
Social
As a corporate citizen in the local community, Imasen aims to contribute to the development and safety of local communities through business activities rooted in the local community.
Community Contributions
Acquisition of Naming Rights (Imasen Inuyama Karakuri Museum Shobei Tamaya Workshop)
Imasen acquired naming rights for the Inuyama Cultural History Museum (South Building), which was openly solicited by the City of Inuyama in Aichi Prefecture. For a five-year period starting on March 1, 2020, the nickname of the Inuyama Cultural History Museum (South Building) has been changed to the Imasen Inuyama Karakuri Museum Shobei Tamaya Workshop. For the opening, Imasen donated to the city of Inuyama a two-stroke writing doll restored and fabricated by the ninth generation Tamaya Shobei. Our hope is for people throughout the world to become familiar with this facility, which was born in the karakuri city of Inuyama. Going forward, we will continue to focus efforts on the promotion of activities contributing to regional development through Imasen business activities.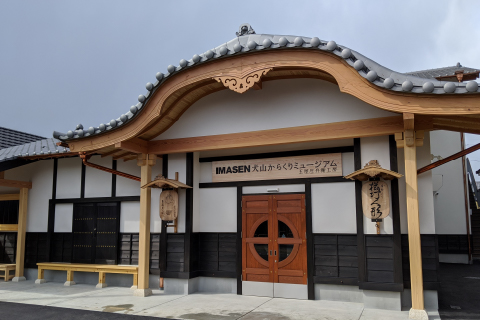 Imasen Inuyama Karakuri Museum
Community Contributions
Himenomiya Hounensai at Ooagata Shrine
Every March Imasen participates in the Himenomiya Hounensai at Ooagata Shrine, which is said to be "the festival that calls spring to Owari." to pray for a good harvest and national peace. Specifically, this involves lending use of our Head Office building as a resting place for those engaged in the Daikagami Mochi dedication ceremony, as well as the provision of lead cars and decorated carriages in the float procession.
ISASEN will continue to value its connections with local communities and focus on activities that contribute to local developments.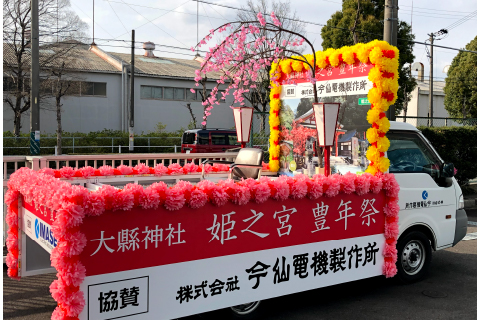 Himenomiya Hounensai decorated carriage
Community Contributions
Traffic Safety Efforts
At the Imasen Head Office and plants in Nagoya, Harusato, Gifu, Yaotsu, Okayama and Hiroshima, on calendar days that end in zero and in the spring, summer, autumn and winter, we conduct traffic safety patrols in during prefecture-wide traffic safety campaigns, engaging in traffic safety education activities targeting employees as well as visitors and drivers passing by.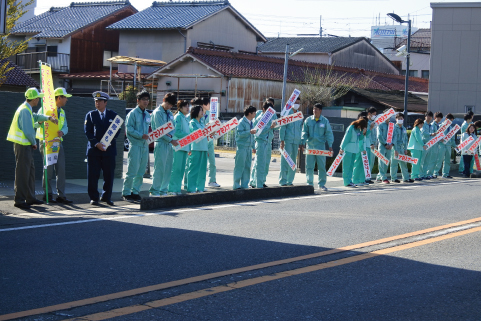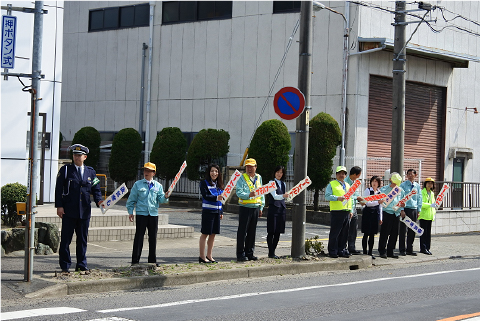 Community Contributions
Local crime prevention patrol
Under the guidance of the Inuyama Police Department, Imasen formed the Imasen local crime prevention patrol with the aim of creating safe and secure communities surrounding our Head Office and Nagoya Plant located in Inuyama, Aichi Prefecture. In July 2010, a launch ceremony attended by the Inuyama Mayor and Chief of Police was held to initiate local crime prevention efforts. By cooperating with local residents through these activities, Imasen aim to contribute to improved urban development as a corporate citizen.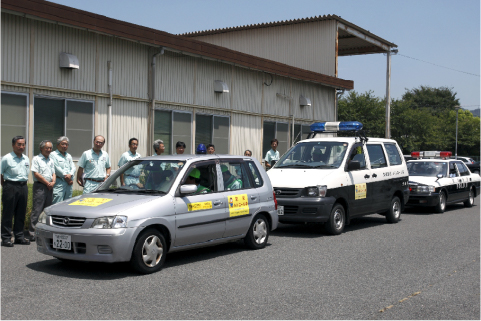 Launch ceremony for local crime prevention patrols
Community Contributions
Cleanup Activities
As a member of the local communities where we do business, Imasen engages in cleanup activities around our offices.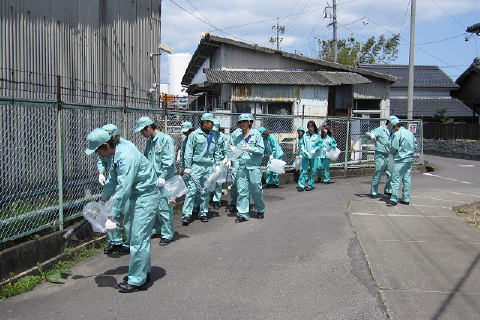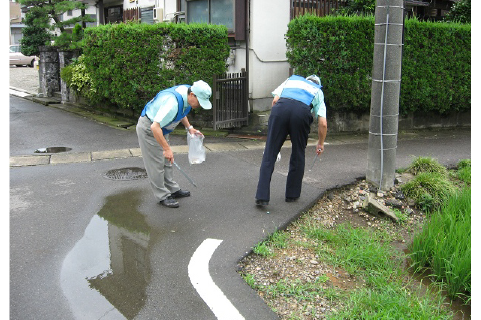 Work Style Revolution by IMASEN
Transform work systems and approaches in the three-year period ending in FY2021, realize an Imasen that is appealing to all employees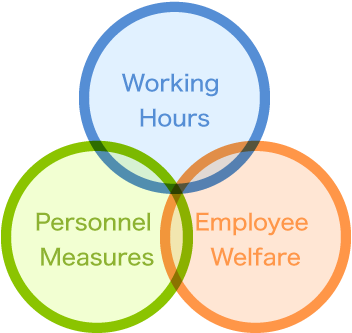 Working hours

For a Healthy and Prosperous Life

Business efficiency

Expanded private time, flexible workstyles

Improved compliance

Personnel Measures

Everyone plays a leading role

Workplaces in which everyone can play an active role

Increased motivation

Employee Welfare

Improving Employee Satisfaction

Workplaces in which everyone can work comfortably

System Enhancements